Lisa Mc GARRY
Master I Coaching Paris 8 University, specializes in digital marketing - company communication and psychology.
Conferences and training on smart packaging a,d mobile consumer behavior.
Specializing in mobile first and social media since 2013.
General Manager of the Mobeefox company, she is also the art director or a packaging manufacturer and a business and digital transition coach.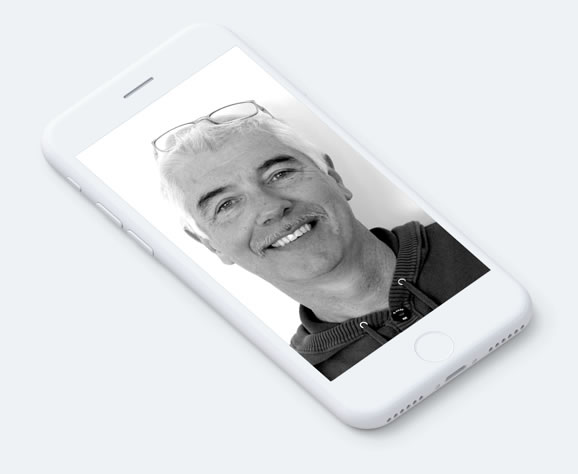 Jean Richard MAGUET
Master II Law Economy Management, specialization change management and NTIC.
Experimented in information technologies and the web.
Frugal (Jugaad) innovation in mobile technologies expert since 2013.
CEO of the Mizenboîte (Mizenbox), packaging manufacturer, he was formerly the CEO of a software editor and a web agency based in Paris.
He also accompanies company managers in implementing company strategy.
Why Mobeefox ? What digital experts recommend :
4 people out of 5 possess a Smartphone and/or a tablet,
4 people out of 5 want to access information without having to download an application,
After having searched for information on their Smartphone :
of mobinauts contacted the company,
---
talked about it to others,
---
It is therefore necessary to favor action !
Over 50% of purchases are done through mobiles !
The mobile is now central to your client's-consumer's behavior.
The mobile has become« first » !
Contactless technologies favor immediate action and permit spontaneous access to the right information right from the Smartphone.
What is Mobeefox ? :
Mobeefox is an online tool permitting you to create your multimedia interactive environment connected to any objet/product/support,
Mobeefox makes your support's limited space into an interactive and unlimited space  unlimited interactive.
It automatically generates your contactless technology.
Mobeefox is inspired by the JUGAAD (frugal) philosophy (do better with less - but not necessarily low cost) and has permanent innovation embedded in it's DNA.
Establish the client relationship wherever your client may be and independently to your distribution circuit,
Better the flow towards your stores - online store - social media,
Make your brand/product/activity go viral and encourage loyalty,
Inform with pertinent information and reassure on your authenticity, here and now,
Create added value in services and information for your supports,
Integrate your supports into a global client/user behavior consideration...
See your stats on the global map and check your client zones, analyse and measure your marketing campaigns real-time.
Packaging, advertising, goodies, industry, tourism, events, etc.
C'est très simple, souscrivez directement en ligne ou demandez un de nos packs.
Create and change your multimedia environment in just minutes, linked to your products/packaging/supports,
Send them out into the world,
Check your stats, measure your communication/information campaign impact, change/update your multimedia environment real-time without changing the access methods.
Go from a « one to all » to a « one to many» communication.
Your packagin/product/support recognizes the language and geographical position of your mobinaut and delivers the right information on their Smartphone, making it smart !
From a single contactless technology, personnalize your communication depending on the language and localization of your mobinauts.
Are you ready ?
If the following terms are important to you or your clients, become SMART :
Simple, fast, immediate, pertinent, multi canal, cross canal, sustainable, added value, mobile social media, geo-marketing, interactivity, mobile first, NFC tag, Qr-code, qualified contact base, mobile quizz, behavior analysis, digital transition, consumer behavior, contactless technologies, smart packaging, connected packaging...